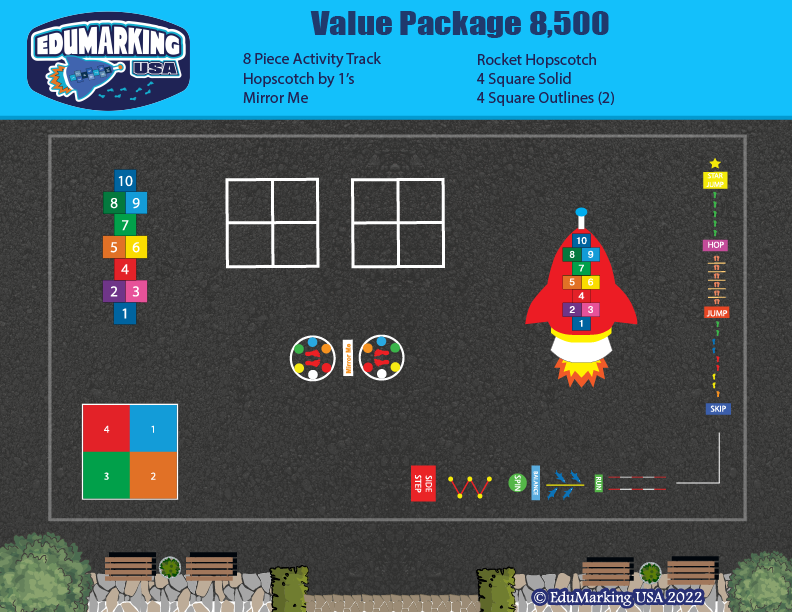 VALUE PACKAGE $8,500
Value package
Markings Included:
8 Piece Activity Track

Hopscotch By 1's

Mirror Me

Rocket Hopscotch

4 Square Solid

4 Square Outlines (2)
The Value Package checks all the boxes: vibrant, engaging markings, activated learning, and imaginative play. This is the perfect starter package for those who are low on space or are budget conscious. This is also a great package to combine with the Fitness Package or our Numbers package to fill out a larger space!
ACTIVE FITNESS PACKAGE $10,000
Activity & FITNESS PAckage
Markings Included:
Skills Circle

Dance Class

Zig-Zag Race

Fitness Adventure Trail 1
Talk about Brain Breaks! This package makes Recess the perfect way for kids to burn that restless, excess energy so that they come back to the classroom ready to learn.
Coaches, students and teachers alike will love this package. Kiddos can create teams and award style or fastest time points on the Zig-Zag Race. The fun continues as they work on their obstacle and balance skills, in the Fitness Adventure Trail!
The Dance Class and Skills Circle both invite smaller group participation and encourages kiddos to take turns in problem solving and in leading & following.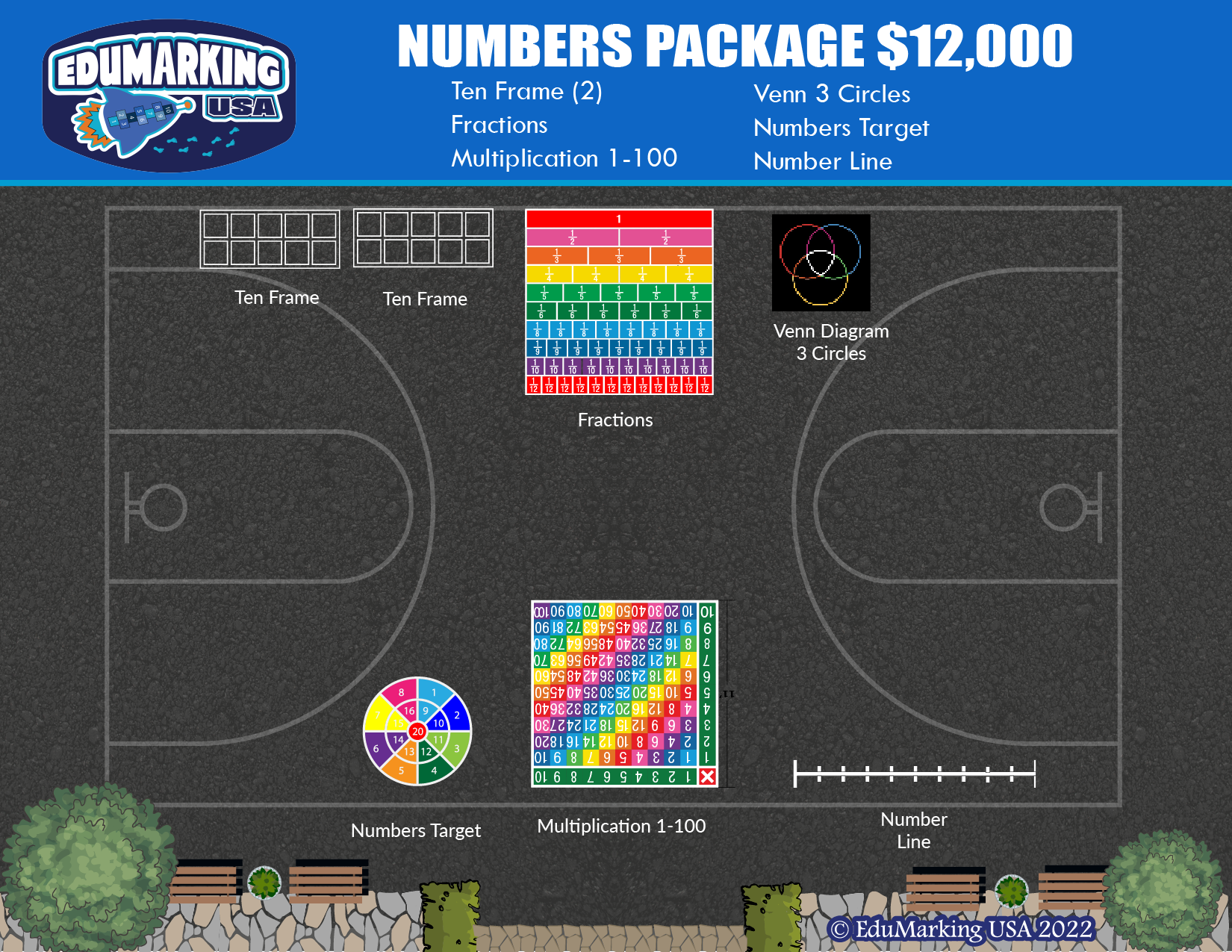 NUMBERS PACKAGE $12,000
Number & MATH SENSE PACKAGE
Markings Included:
Ten Frame (2)

Fractions

Ven 3 Circles

Numbers Target Full Solid

Multiplication 1-100

Number Line
This inquiry-based learning package has it all! Help recover COVID learning loss and empower kids to develop math-sense in fractions, multiplication, addition, division, decimals and estimating.
There is no easier or more visual way to learn fractions than to see it beneath your feet as you experience the way a whole can be broken down into parts.
Our Numbers Target helps kiddos with quick addition through play and helps them make connections they can take back to the classroom.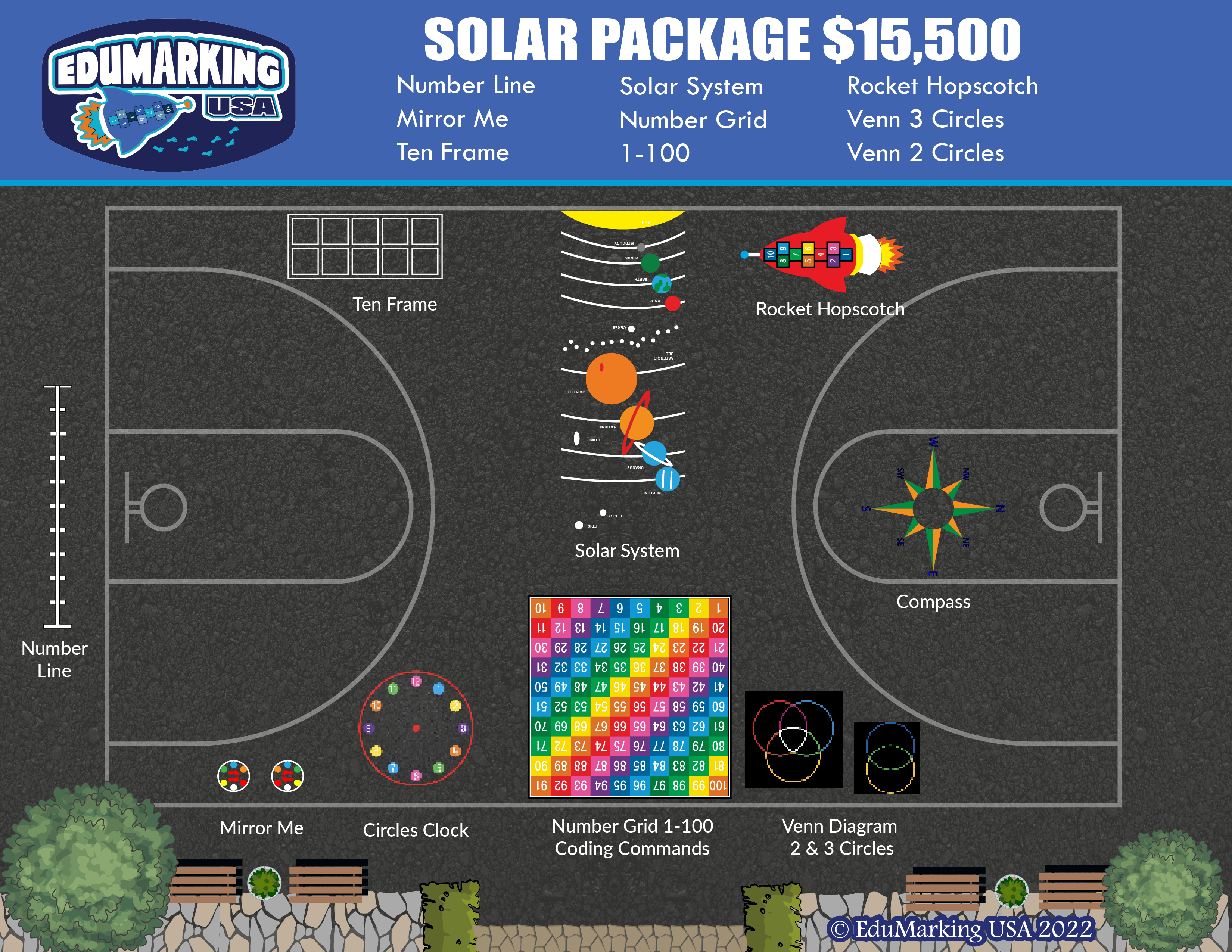 SOLAR PACKAGE $15,500
Inquiry-based learning PACKAGE
Markings Included:
Number Line

Mirror Me

Ten Frame

Solar System

Number Grid 1-100

Rocket Hopscotch

Venn 3 Circles

Venn 2 Circles

Compass

Circles Clock



This package is full of discovery and activated learning for students of every age. Children are encouraged to view their place in the universe as they travel through our solar system.
Blast off for an adventure with our Rocket Hopscotch, or take turns leading and following with our Mirror Me!
Deepen math sense with our ten-frame and venn circles while also incorporating coding terminology.
When it comes to inquiry-based learning, there is nothing like hands on (and feet-on!) application. We deliver an amazing numbers package that stands alone or pairs well with activity markings.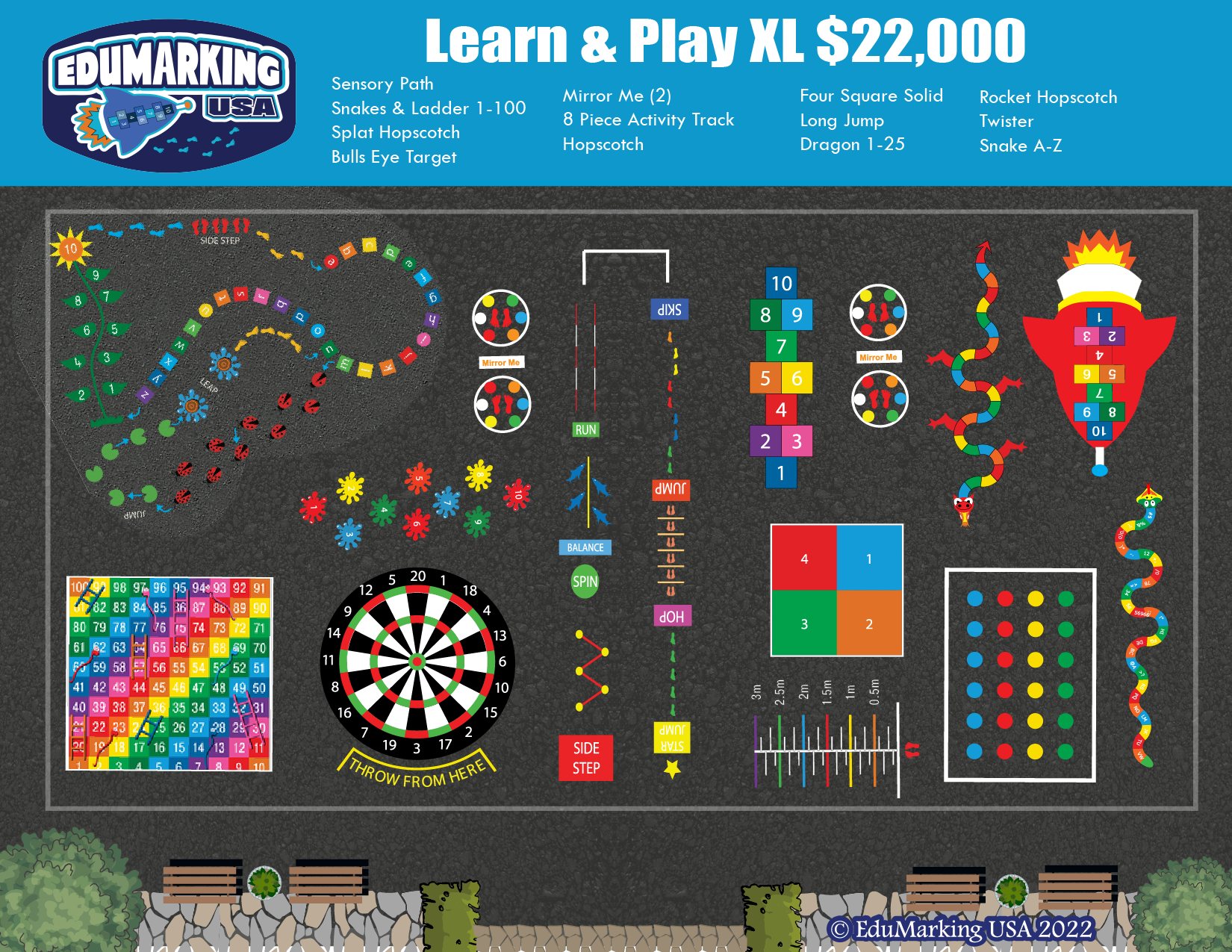 LEARN & PLAY XL $22,000
The Total package!
Markings Included:
Sensory Path

Snakes & Ladders 1-100

Splat

Hopscotch

Bulls Eye Target

Mirror Me (2)

8 Piece Activity Track

Hopscotch

Four Square Solid

Dragon1-25

Rocket Hopscotch

Twister

Snake A-Z
Where do we begin? This is the TOTAL PACKAGE, covering PreK-7th Grade with lots of inquiry-based learning and activated play markings!
Need to encourage emotional regulation with those anxious kiddos? The Sensory Path is the perfect way for them to practice mindfulness and slowing down those racing thoughts as they walk through their abc's, side-step, and navigate the lily-pad and lady bug paths.
This package can be installed in one large area or broken up into separate areas for play along winding paths and sidewalks. Let your creativity run wild!