Creating Empowered Kids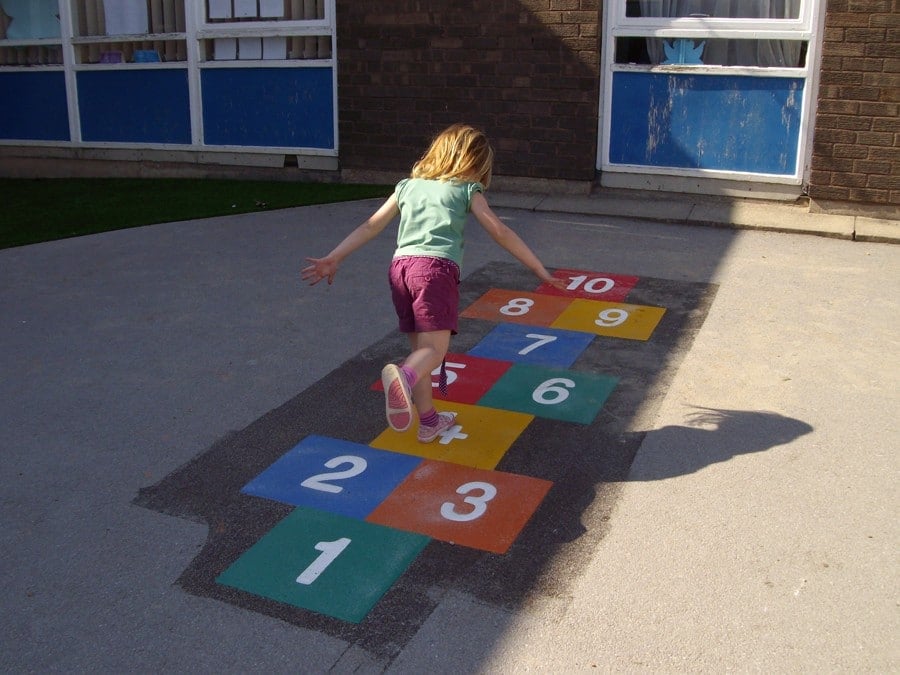 The Benefits of Playing Hopscotch
March 21st 2017
The first recordings of hopscotch date all the way back to the 17th century, and yet it continues to be one of the most popular playground games of all time. Of course, there have been different versions of this game recorded throughout history, but in the grand scheme of things, it was and still is an effective form of play that teaches children:
Balance & Coordination
Body Control
Social Development
Counting Skills
THE RULES WAY
In order to play Hopscotch, you need one or more players and a Hopscotch board. Each player is given a marker (beanbag, small rock, coin, etc.) and, on their turn, will throw their marker onto the Hopscotch board, starting with block #1. The player will then travel from block to block in numerical order by hopping on one foot while skipping over the one block where his/her marker landed. Once the player reaches the end, he/she will turn and hop back to the beginning, pausing only to pick up the marker while staying on one foot. On their next turn, the player will throw their marker on block #2 and proceed with the steps above. With every turn, players will advance their markers to the next numbered block (3, 4, 5…). A player will lose a turn if he/she steps on a line or outside of the Hopscotch board. The first player to get his/her marker on 10 and successfully hop to the end of the board and back, wins.
THE CREATIVE WAY
Unstructured play encourages leadership and teamwork. Encouraging kids to make up their own games and rules using the Hopscotch board, or any other game, can be a great way to evolve their math skills, physical fitness skills, and much more as they perfect the game or get older.
HOW TO USE THIS INFORMATION
At EduMarking USA, we believe in creating interactive learning experiences for higher performing kids. To do this, we create and install vibrant playground games (hopscotch, four square, etc.) on a park surface of any playground. These games—made with thermoplastic technology—provide interactive experiences for children to encourage learning that's fun and effective. Visit our Playground Games to learn more about the many playground designs we offer. If you're interested in adding a map to your playground, email us or call 610-291-2279 for more information.